The purpose of the training hall is to provide martial arts enthusiasts with a website which provides a multitiude of links to other martial arts sites and to provide information about various martial arts styles, self-defense, and how to determine what type of school is right for you. For all of the anime fans (I'm one too!)check out my Anime Madness site.
Korean arts...
Body toughening drills

Don't be afraid to ask questions. Ask about the instructor's credentials. Also, talk to some of the students. See how they feel about the class and the instructor. Does the school utilize contemporary movements? Wide traditional stances are good for training, but will only get you hurt on the street. It's very hard to be mobile when your feet are spread double shoulder width apart. The same thing goes for high, acrobatic kicks. Don't get me wrong, deep stances and high kicks are excellent training, but the body becomes offbalanced when the feet are raised above waist level. The less stable you are, the easier it is for him to get the drop on you.

Another thing to watch for are the "six month crash courses" that many schools are now offering. Unless you train like a maniac for hours a day, every day, you can't learn to adequately defend yourself in six months. Your body will be capable of doing the movements, but the mind is not prepared to fight under such high stress conditions. When the adrenaline starts to flow, you will more than likely forget eveything and freeze, and if you take a hit from your opponent, you may as well hang it up. Make sure the school has body toughening drills. If you get into a class and wear padding all over your body all the time, you'll get shell shocked the first time you take a hit in an actual confrontation. You must be able to take punishment as well as dish it out. And I mean really dish it out. The street is no place to be pulling punches, which is another factor. While training you will pull your techniques for safety reasons (if you hurt your partner, he/she might not wanna play anymore). A good thing to try is investing in a heavy bag. They're inexpensive, and they can take a beating. If you constantly pull your punches in training, you will most likely do it in an actual fight. After all, you practice how you play, right? This is why it is essential to wail on a heavy bag in addition to your regular training. Styles such as Muay Thai and Western Boxing incorporate heavy bag training as part of their normal routine. When was the last time you saw Tyson or Holyfield pull punches? They practice hard, and they play hard.
---
Sport and competition
Some people are interested in martial arts because they desire to compete. There are two major forms of sport competition, point and full contact. Full contact fighting is an excellent form of exercise. The conditioning is virtually unparallelled. Strikes are delivered with force, which promotes self defense skills, as mentioned in the preceding section. It develops a certain mental toughness as well. Slugging it out with some stranger in front of a huge crowd could tends to do that.
Point competition is a form of light fighting, like a game of tag. It stresses control in that you must be able to throw fast techniques without having any real impact; the techniques are pulled before they have a chance to do any harm. Point fighting can be a good method of staying in shape, but self defense benefits are minimal compared to full contact fighters, and martial artists who train to be effective at fighting and self defense. I have witnessed all too many times, people who trained in martial arts for years get mauled by streetfighters. Don't get me wrong-I've seen full contact fighters and (for lack of a better term) "self defense specialists" get mauled too- it happens. But the majority of the point fighters I saw only lost because they pulled their techniques. (You practice how you play.) Another problem I see is not a problem with point fighters, but the scoring system used. Two points for connecting with a kick, one for a punch. That's all fine and good, but there is not much consideration for where you get hit or how the technique is delivered. I've seen points awarded to a guy who lumged clumsily into the air and backfisted his opponent on top of the head! This was his special technique. He used it on everbody. And I have to give him credit, because most of the time it landed. Sure, the technique worked, but what was the point? If that was an actual confrontation, his opponent would've laughed in his face. The backfist in not meant to be a strong technique, and using it while leaping around only makes it weaker. It also left him wide open for a counter attack. I'm not totally against point fighting (although it may seem that way). It's a good form of exercise, it helps kids build fundamental skills they'll need later in their training, and it is fun. But when schools focus on this type of training and call it self-defense, be weary.
Muay Thai
Muay Thai is the national sport of Thailand. It's brutal effectiveness make it an excellent art for self defense purposes. Actually, Muay Thai began as a fighting art. On the Battlefield , Thai soldiers fought using a weapons-based style called Kabri Kabrong. The techniques were modified for empty hands and was called Muay Thai.
Muay Thai became the National Sport of Thailand after Prince Naressuen used his Muay Thai skills to defeat all of the greatest soldiers in the Mogolian army. The Prince was taken captive by the Mongolians, (who were at that time a big rival of the Thais) and was told that he could be released if he could defeat all of the greatest Mongolian warriors in battle. True to their word, the Mongolians released him.
The beauty of Muay Thai lies in its deceptive simplicity. It is very straight forward and direct. Where as many Japanese, Chinese, and Korean styles have literally hundreds of punches, kicks, and other strikes, all of the techniques in Muay Thai can be learned in a day. Thai fighters spend most of their time training, conditioning, and fighting - not constantly learning new techniques - which is what makes Thai fighting so effective. Instead of learning many techniques and mastering only a few, Thai fighters learn fewer techniques and master them ALL. Probably the only shortcoming of Muay Thai is that there is no atual grappling in the art. In the times we live in today, grappling skills are a must in order to be a complete fighter, so it would be advisable for a Muat Thai student to train in a grappling art as well. (Lucky for me, my school also teaches Judo!)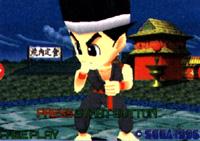 Anime madness!

Sign My Guestbook View My Guestbook
Comments? Questions? Don't be shy,mail 'em to me!
---
Webmaster:Donnell Peavy Last update12/11/97
email:shinkazama@hotmail.com